This article revolves around a person in the real world and unrelated to the world of Guilt.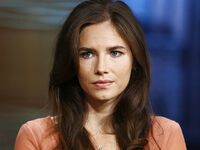 Amanda Marie Knox
is an American woman who spent almost four years in an Italian prison following the 2007
murder of Meredith Kercher
, her roommate, before being definitively acquitted by the Supreme Court of Cassation. Knox, then a twenty-year-old student, had raised the alarm after returning from spending the night with her boyfriend, Raffaele Sollecito.
Her story is the inspiration for the Guilt television series.
Similarities and Differences
Edit
Similarity: In the same way Amanda was believed to have murdered her roommate, Meredith Kercher, Grace in Guilt is the lead suspect in the murder of her roommate, Molly.
Similarity: Amanda returns from spending the night with her boyfriend and sees her roommate dead. This is similar to how Grace in Guilt returns from sleeping on the roof with her boyfriend (Luc) and finds Molly dead.
Difference: In Amanda's case, these events happened in Italy. However, with Grace, it takes place in London.